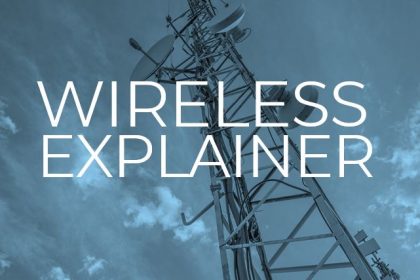 Everyone talks about 5G wireless.
But do you know what it is, really?
Those of us who have achieved a certain age – say, over 40 – probably remember when the 'G' in '5G' was still being called 'generation' or 'gen'. I definitely remember sitting in boardrooms where guys in sharp suits were getting really excited about 'second gen' or 'next gen' stuff.
Now that we're 5 generations in, let's review what all these Gs were about, when it comes to wireless technology:
1G was analogue cellular. The phones looked like bricks and could really only be used for phone calls.
2G was the first generation of digital technology, which allowed for SMS (text messages) and MMS (picture messages). The phones got a little more appealing – and smaller.
3G wireless coincided with the first phase of smartphones – it wasn't super-fast by today's standards but it allowed internet access and even video calling.
4G wireless technologies like LTE and WiMAX were just a whole lot faster (though not available everywhere)
5G wireless systems are designed to do three things: Improve speeds (eventually into the 20GB range);  support the connection of many more devices at once; and reduce latency rates (less delay in transmission).
More about 5G technology
Basically 5G is going to be super-fast, and available to everyone. But it won't achieve full coverage for a while yet – while urban areas in North America are already getting some coverage, Canada's not expected to have full coverage until 2025 or later.
Right now, carriers offering 5G wireless have to use mmWave (millimeter wave), which is a super high-frequency band that delivers high-speed data but has a short range. Getting 5G to individual users currently requires many boxes with mmWave antennas positioned fairly close together.
Why should you care about 5G?
If 2G wireless brought texting to the masses, and 4G wireless allowed streaming video to be available to the average household, 5G is what's going to make the Internet of Things (IoT) possible.
Self-driving cars, for example, need high-speed, low-cost internet access at all times, with low latency rates in order to be responsive to other cars on the road.
But in the shorter term, as 5G spreads out from the urban areas, its ability to accommodate multiple users and devices at once – especially when so many households may be watching Netflix and YouTube, while using Instagram, Facebook and surfing the web (yes, people still do that) across digital tvs, smartphones, laptops and tablets – will ensure that everyone gets to do what they want online without data slowing to a standstill.
5G and the rural user
It's estimated that in rural settings, a wired connection costs as much as 5-10 times what a wireless connection costs. So for many rural users in Canada, the only internet option up to now has been dial-up (via the wired phone line), or, in some cases, wireless internet that tends to be slow and expensive.
Peter Rysavy, writing in FierceWireless earlier this year, says 5G will transform internet for rural users:
Starting with advanced versions of 4G LTE and then continuing with 5G, wireless technologies will not only displace many wireline endpoints in dense population areas, but also in low population density areas, including rural areas.
Where is 5G in Canada right now?
Some of the bigger carriers are currently setting up clusters of mmWave boxes in downtown Toronto, conducting true 5G tests to these urban users.
For most Canadians, however, 5G will take another year or two to get rolling, and even then it'll be combined with 4G LTE in order to boost coverage until the infrastructure is fully deployed.
In the meantime? Get in touch – we'd love to talk to you about our wireless options for rural users in Southern Ontario.