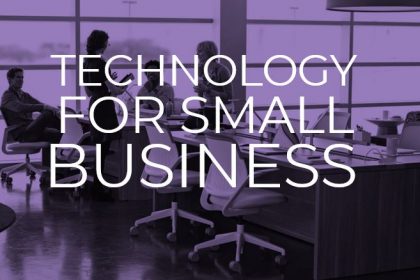 5 tips to make your investment in technology work harder.
If you're a small business owner – especially one who's trying to grow the business – you've heard it a million times: "Technology is crucial for your business! You need to start using [X]!"
But like almost every other small business owner, you probably also have to keep a close eye on productivity and the bottom line. And you know that making the wrong decision about technology for your business could put the kind of dent in your P&L that could put your business at risk, and not just in the short-term.
So how do you take advantage of technology – while protecting yourself from a big spend that doesn't deliver the results you need?
Unfortunately, there's no simple magic answer. However, you can improve your chances by approaching small business technology the right way. Here's what we've learned from working with so many small businesses across Southern Ontario.
1.  Don't procrastinate when it comes to the basics
No matter what your business, you and your employees probably rely on desktop and laptop computers on a daily basis. If you haven't updated those computers in a while, it's probably costing you more than you realize. Unreliable computers can result in significant downtime, security risks, and dependence on specific employees ("Barb's the only one who can get that one to work"). When a computer dies unexpectedly on a Friday afternoon in the middle of processing a mission-critical function like payroll, the whole business suffers – and suddenly you're spending a week playing catchup rather than servicing customers.
If you haven't updated your office computers (and their basic software like Microsoft Office) in 4+ years, your first step should be to assess their status.
2.  Back up data to the cloud
In the past couple of years you may have heard of 'ransomware': Essentially, bad actors hack into your computer system and put a lock on your data. They then send you a message saying that unless you send them a certain amount of money, they will permanently delete all your data.
It's important to remember that while it's the hacks of the big organizations that make the news, the truth is that small businesses tend to suffer the most from ransomware attacks.
The good news is that it's relatively easy to insulate your business from ransomware: Comprehensively backed-up data. When your data is backed up on a daily basis, you can easily restore systems. Using a cloud-based backup system, where data is automatically archived in a secure datacenter, should be a top priority – and it doesn't have to be expensive.
3. Digital phone systems
At a very basic level, switching your office phones from landlines to digital will almost always save you money immediately, especially if you're spending more than $25/month in long distance charges. If you need your phone systems to do more – like a call center, or visual voice messaging, or multiple numbers ringing to the same place – you should go a step further and consider VOIP options as well.
4. Find technology partners you trust
One of the biggest technology pain points we hear from small businesses is that they were 'burned' by an IT provider who didn't deliver what was promised,  left them in the lurch, or is charging high prices but provides poor customer service, especially when a problem arises.
When you're choosing technology for your small business, ask around: Ask for recommendations from trusted colleagues or other small business owners, do your research, and don't hesitate to walk away from a potential tech provider if you start to feel like they may not have your business's best interests in mind. There are plenty of reliable, trustworthy and cost-effective providers out there – and a little vetting now will save you time, money and headaches in the future.
5.  Keep your specific business goals top of mind
It sounds obvious, but it bears repeating: No matter how cool or sexy a particular technology may seem, it only makes sense if it can deliver a clear ROI for your business. A web-based client portal may look really cool and have terrific features, but may not make sense if your client base is small and doesn't need to create orders or monitor their accounts online on a real-time basis.
PROTIP: Make a list of specific key business goals for the next 12-24 months, and then think of how an investment in technology might help you get there. Then, when you start to research your options or meet with technology vendors, assess their potential against your business goals. Having a yardstick against which to measure potential gains will help prevent costly mistakes.