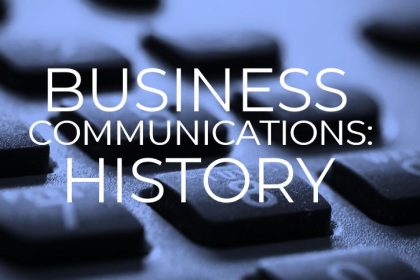 Looking back helps us to look forward.
Working in the telecommunications industry, we're accustomed to thinking of the tech world as a rapidly, constantly changing place – every week seems to bring some new 'disruption' or development and there's a premium placed on staying 'ahead of the curve' and 'at the cutting edge'.
So when we came across this infographic by Hannah Warren this week, it got us thinking. For example: While many small businesses still think of VOIP as a new technology, the truth is that it's been around for almost 20 years. It's true that when it was first introduced, customers had to sit through sales pitches involving long explanations of PBX systems or disclaimers about packet loss or latency that probably made landlines seem a lot more reliable.
But today's VOIP systems have really come of age, and – as we see in this infographic – are really just a natural evolution of everything that's come before. So why are only 25% of Canadian businesses using VOIP as their primary phone system? We think there's a knowledge gap.
(If you'd like to learn more about VOIP and what it can do for your business, especially in Southern Ontario, get in touch. We'd love to hear from you.)